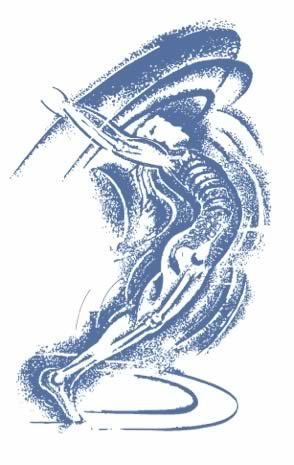 "It's not just about back pain."
Sue Brown - Chiropractor
Registered with most major private healthcare insurers
For appointments
please call:
01299 51 93 51
or
07932 00 00 28
Testimonials
"Just wanted to say what a great help the Display Screen Assessment was for us all. It was a valuable exercise in checking our posture when working at our computers and it has certainly made us more of aware of the need to sit correctly to ensure that we can avoid some of the problems that we have had with our backs in the past."



Annette.
---
'It's a kind of magic!' I cannot begin to say what a massive difference Sue's treatments have made to my health and happiness. I suffered a severe whiplash injury in 2004, and despite a range of other measures I had been living with chronic pain and unable to sleep properly. After the first appointment I experienced a dramatic change, i immediately had more range of movement and less pain. I remember being so grateful I was moved to tears. After every subsequent treatment I continued to improve. It is not an overstatement to say that Sue and the McTimoney Method have succeeded where all other efforts have failed. Furthermore it is a delight to be treated by someone so capable, knowledgeable and kind as Sue. She is a person I hold in the highest esteem."



Victoria - Registered Nurse
---
"It's like a miracle. After 10 years of discomfort and reduced mobility, one session with Sue improved my mobility, stability and confidence beyond imagnation. The second treatment consolidated this and my only regret is not doing this years ago."



Alison - Horse rider
---
"After suffering with back-pain for many years, thanks to Sue Brown's attentions and advice, I am now able to carry out every day tasks,and enjoy recreational activities to the full."



John
---
Sue came highly recommended to me by a friend and proved to be entirely approachable and a true expert in her field. I was most impressed with her understanding for quickly identifying the root cause of issues which I was totally unaware of despite having been a ballet dancer and teacher for many years with a good knowledge of postural control. Sue's treatment was painless and thorough and made me feel spiritually and physically so much happier in the knowledge that my spine and pelvis were realigned to avoid complications which may adversely affect my career further down the line.

I would highly recommend anyone and everyone to make an appointment with Sue for 'an MOT.'
Alexandra - London Royal Ballet School
---
Sue's approach with her patients is compassionate and she displays a huge depth of empathy especially in her work for 'Hands For Heroes'. Unknown to me, this charity provides help for injured military personnel without cost to the individual. Her enthusiasm for this charity is outstanding.
Hands for Heroes has enabled me to have a number of pain relieving sessions without worrying about being able to afford the cost. She is the only practitioner that offers her time for this admirable organisation in this area, and if we hadn't moved to this locality I feel we may never have heard of them and I would still be in immeasurable pain without any expectation of any relief.
Anon ex-Staff Sgt. REME
---
Since having my children 13 years ago I have suffered with back and pelvis pain and more recently stiff and painful shoulders resulting in severe headaches. I have found it increasingly frustrating, as somebody who is generally quite active, particularly enjoying horse-riding, to find that my body is constantly letting me down. I have had physio-therapy and taken medication, but neither has really helped. So when my friend recommended Sue to me I must admit I was a little sceptical and to be honest quite nervous, as I knew very little about Chiropractic Treatment.
Having had several more recommendations I decided to go ahead and make an appointment for an assessment. My worries were immediately put to rest, Sue was kind and considerate and I felt completely at ease. I was amazed at how quickly she was able identify the reasons for my back pain, everything she said made complete sense and I can't tell you how much better I felt for just understanding my symptoms. I have now had my first treatment which was gentle and completely painless, and already I have noticed a difference in my movement.
Instead of just being able to move my head to the side, I can now look over my shoulder; I can't remember the last time I could do this. The headache that was constantly threatening also seems to have disappeared. I have nothing but praise for Sue and the McTimoney method.
Kirsty, librarian.